Main Page
From Libre Graphics Lab
The Libre Graphics Research Unit
The Libre Graphics Research Unit is a traveling lab where new ideas for creative tools are developed. Its diverse activities range from the practical to the theoretical via writing, research meetings, experimental prototyping, conferences and workshops. The Research Unit is an initiative of four European media-labs actively engaged in Free/Libre and Open Source Software and Free Culture. This cross-disciplinary project involves artists, designers and programmers and is developed in dialogue with the Libre Graphics community.
What future practices can we imagine, and which tools can make them happen?
For more information about LGRU, see the project description.
Partners
Associated partners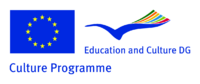 This project has been funded with support from the European Commission. This publication reflects the views only of the author, and the Commission cannot be held responsible for any use which may be made of the information contained therein.