Welcome :-)
Le projet de fonte collaborative Dingbats Liberation Fest propose de redessiner les caractères Dingbats et Symboles Divers de la liste Unicode.
Les Dingbats et Symboles Divers font partie de quelque chose qu'on pourrait appeler un bien commun. Ces symboles se sont infiltrés dans la plupart de nos ordinateurs. Ils font partie des différents systèmes d'écritures comme l'alphabet romain. Reste à les localiser sur votre disque dur.
Après 2 premiers workshops à Brussels et Utrecht en novembre et décembre 2009, 70 caractères habitent déjà cette police de caractères.
Les blocs Casseau et Symboles Divers contiennent 303 caractères actuellement (Unicode version 5.2.0).
Libérez un symbole !
Dingbat Liberation Fest I
Le 26 novembre 2009 au cours du festival Verbindingen/Jonctions 12, By Data We Mean à Bruxelles avec des étudiants venus de Stuttgart et Mons.
Dingbat Liberation Fest II
Le 11 décembre 2009 à CASCO (Office for Art, Design and Theory), Utrecht - NL avec des étudiants de l'Arnhem Art Academy.
Dingbat Liberation Fest III
Distributed version installed in my.monkey gallery, Nancy.
☝
Recette
You need: black paper, scissors or knife, a bowl with a complete set of Unicode references, scanner, computer with Nancy installed, Internet connection.
Tirer au hasard un papier plié (dans le chapeau ou verre doseur).
Lire la description et le numéro. Si besoin, consulter l'index français: Symboles Divers + Casseau
Découper dans du papier noir, une forme pour cette descripton (sans se référer au caractère générique Unicode correspondant).
Une fois votre dessin-découpage prêt, le placez dans le scanner ( ! face contre la vitre).
Activer Nancy et se laisser guider par les indications
Accrocher votre caractère au mur, accompagné de sa description.
Téléchargement la fonte: DingbatsLiberationFest.ttf
☝
Utilisation
Comment utiliser cette police / aller chercher les caractères dans différentes applications:
Inkscape
Ctrl + u suivit du numéro hexadecimal du caractère (4 chffres/lettres) puis Entrer
ex : Ctrl+u2666Enter
pour rester dans ce mode Unicode, après avoir inséré un caratère ajouter un Espace (à la place de Enter) et continuez
ex : Crtl+u279A 275E
Pour sortir de ce mode taper Esc ou à nouveau Crtl U
Scribus 1.3.5
Dans l'édieur de text Ctrl+Shift+u suivit du numéro hexadecimal, pour les versions antérieures F12 suivit du numéro hexadecimal
Ou encore Dans l'éditeur de text:
menu "Insérer" > "Glyph" > Palette de caractères > Recherche Unicode (loupe) > sélection du caractère
Fontmatrix
Onglet Glyphs > block «Dingbats» et «Miscellaneous Symbols»
☝
Latest version
Nous en sommes maintenant à la révision 106
Download: DingbatsLiberationFest.ttf
Liste des fontes regénérées
All versions of DLFo since Nancy was activated: Liste des fontes
☝
License
This font is Free Software. In short, it means you may use, copy, distribute and alter it. For more details about what that means, see license below:
LICENSE DINGBAT LIBERATION FONT
Copyright (C):
Verbindingen/Jonctions 12, Brussels (BE), 2009

OSP
Various students from Brussels, Stuttgart & Mons

Casco, Utrecht (NL), 2010

Various students from the Arnhem Design Department

my.monkey gallery, Nancy (FR), 2010

Various participants from Nancy
This Font Software is licensed under the SIL Open Font License, Version 1.1. This license is copied below, and is also available with a FAQ at: http://scripts.sil.org/OFL
--------------------------------------
SIL OPEN FONT LICENSE Version 1.1 - 26 February 2007
--------------------------------------
PREAMBLE
The goals of the Open Font License (OFL) are to stimulate worldwide development of collaborative font projects, to support the font creation efforts of academic and linguistic communities, and to provide a free and open framework in which fonts may be shared and improved in partnership with others.
The OFL allows the licensed fonts to be used, studied, modified and redistributed freely as long as they are not sold by themselves. The fonts, including any derivative works, can be bundled, embedded, redistributed and/or sold with any software provided that any reserved names are not used by derivative works. The fonts and derivatives, however, cannot be released under any other type of license. The requirement for fonts to remain under this license does not apply to any document created using the fonts or their derivatives.
DEFINITIONS
"Font Software" refers to the set of files released by the Copyright Holder(s) under this license and clearly marked as such. This may include source files, build scripts and documentation.
"Reserved Font Name" refers to any names specified as such after the copyright statement(s).
"Original Version" refers to the collection of Font Software components as distributed by the Copyright Holder(s).
"Modified Version" refers to any derivative made by adding to, deleting, or substituting -- in part or in whole -- any of the components of the Original Version, by changing formats or by porting the Font Software to a new environment.
"Author" refers to any designer, engineer, programmer, technical writer or other person who contributed to the Font Software.
PERMISSION & CONDITIONS
Permission is hereby granted, free of charge, to any person obtaining a copy of the Font Software, to use, study, copy, merge, embed, modify, redistribute, and sell modified and unmodified copies of the Font Software, subject to the following conditions:
1) Neither the Font Software nor any of its individual components, in Original or Modified Versions, may be sold by itself.
2) Original or Modified Versions of the Font Software may be bundled, redistributed and/or sold with any software, provided that each copy contains the above copyright notice and this license. These can be included either as stand-alone text files, human-readable headers or in the appropriate machine-readable metadata fields within text or binary files as long as those fields can be easily viewed by the user.
3) No Modified Version of the Font Software may use the Reserved Font Name(s) unless explicit written permission is granted by the corresponding Copyright Holder. This restriction only applies to the primary font name as presented to the users.
4) The name(s) of the Copyright Holder(s) or the Author(s) of the Font Software shall not be used to promote, endorse or advertise any Modified Version, except to acknowledge the contribution(s) of the Copyright Holder(s) and the Author(s) or with their explicit written permission.
5) The Font Software, modified or unmodified, in part or in whole, must be distributed entirely under this license, and must not be distributed under any other license. The requirement for fonts to remain under this license does not apply to any document created using the Font Software.
TERMINATION
This license becomes null and void if any of the above conditions are not met.
DISCLAIMER
THE FONT SOFTWARE IS PROVIDED "AS IS", WITHOUT WARRANTY OF ANY KIND, EXPRESS OR IMPLIED, INCLUDING BUT NOT LIMITED TO ANY WARRANTIES OF MERCHANTABILITY, FITNESS FOR A PARTICULAR PURPOSE AND NONINFRINGEMENT OF COPYRIGHT, PATENT, TRADEMARK, OR OTHER RIGHT. IN NO EVENT SHALL THE COPYRIGHT HOLDER BE LIABLE FOR ANY CLAIM, DAMAGES OR OTHER LIABILITY, INCLUDING ANY GENERAL, SPECIAL, INDIRECT, INCIDENTAL, OR CONSEQUENTIAL DAMAGES, WHETHER IN AN ACTION OF CONTRACT, TORT OR OTHERWISE, ARISING FROM, OUT OF THE USE OR INABILITY TO USE THE FONT SOFTWARE OR FROM OTHER DEALINGS IN THE FONT SOFTWARE.
☝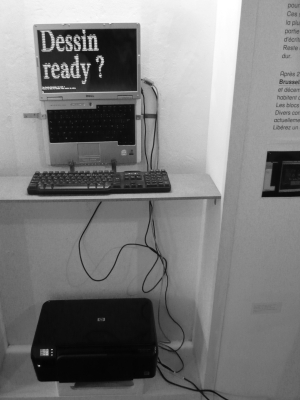 Nancy is an experimental software setup for decentralised, collaborative typography. Nancy is made to support collective font design, also if dispersed over time and geographic location. Nancy is a patchwork of classic Free, Libre and Open Source softwares (Subversion, FontForge and Apache), stitched together into a networked powertool. Nancy is no-nonsense, under construction, and loves your contribution.
Remote typographers are welcome to communicate with Nancy through a friendly command-line interface. She operates a scanner installed on location, outlines your drawing or cut-out with the help of PoTrace, than transforms the resulting vector image into a Unified Font Object (UFO) using FontForge. Finally she adds the glyph to the OSP-subversion repository and generates a new version of the font on the OSP-server.
You are welcome to browse, copy, distribute and change Nancy's sourcecode (released under a GPL3.0). Her repository is at:
http://svn.constantvzw.org/ospublish/nancy/
Code: Pierre Marchand
☝
Unicode est un standard de l'industrie informatique permettant la représentation et la manipulation de textes exprimés dans la plupart des systèmes d'écriture du monde.

Les versions du standard Unicode sont compatible et synchronisées avec le standard international ISO/IEC 10646 (Universal Character Set).
Chaque version est publié sous forme de livre « The Unicode Standard »
La dernière version d'Unicode, 5.2.0, est constituée d'un répertoire de plus de 107.000 caractères couvrant 90 scripts
Ce projet a commencé à la fin des années 80.
L'idée est de déterminer un chiffre et un nom pour chaque caractère des langues humaines.

Unicode spécifie un numéro unique pour chaque caractère, quelle que soit la plate-forme, quel que soit le logiciel, quelle que soit la langue.
http://www.unicode.org/standard/translations/french.html
La dernière version d'Unicode est constitué d'un répertoire de plus de 107.000 caractères couvrant 90 scripts
Peut être, si nous rentrons en contact avec les martiens on peut imaginer y ajouter leurs caractères.
Le Consortium Unicode est une organisation sans but lucratif.
Ses membres sont des compagnies comme Adobe, Apple, IBM, Microsoft, Monotype, Linotype, Nokia , etc
Unicode est défini suivant un modèle en couches.
On compte actuellement 8 plans:
0 __0000–FFFF __Plan multilingue de base (PMB)
1 __10000–1FFFF __Plan multilingue complémentaire (PMC)
2__20000–2FFFF __Plan idéographique complémentaire (PIC)
3__30000–DFFFF __Plans complémentaires réservés
4__E0000–EFFFF __Plan complémentaire spécialisé (PCS)
5__F0000–10FFFF __Plans complémentaires à usage privé
La norme ASCII(American Standard Code for Information Interchange Code américain normalisé pour l'échange d'information) est la norme de codage de caractères en informatique la plus connue et la plus largement compatible. C'est également la variante américaine du codage de caractères ISO/CEI 646. ASCII contient les caractères nécessaires pour écrire en anglais. Elle a été inventée par l'Américain Bob Bemer en 1961. Elle est à la base de nombreuses autres normes comme ISO 8859-1 et Unicode qui l'étendent.
ISO/CEI 10646
La norme ISO/CEI 10646, intitulée Technologies de l'information — Jeu universel de caractères codés sur plusieurs octets, tente de définir un système de codage universel pour tous les systèmes d'écriture. Ce standard est le fondement d'Unicode.
☝
2700 > 27bf
Le bloc Dingbats ou Casseau comprend des symboles iconographiques et ornementaux.
Une partie reprend les caractères de la fonte Zapf dingbats, dessinée par Herman Zapf en 1978 et publiée chez ITC (International Typeface Corporation).
Parmi les fontes d'Herman vous connaissez sans doute Optima, Palatino ou Zapfino.
☝
2600 > 26FF
Un bric à brac de symboles divers et variés : météorologiques, astrologiques, de téléphone, de pause café, de fleuron aldin, de tête de mort, de radioactivité, de diverses religions, de divers systèmes politiques, le symbole de la paix et celui du tao, les trigrammes du Yi King, les smilies, les planètes, les constellations, les échecs, les cartes, les notes, les symboles de recyclage, de dés, de haut voltage, etc.
(Fontes et codages, Yannis Haralambous)
Les symboles de 26C4 à 26FF + 26BD -BE -BF et 269E -9F (en jaune sur la planche Unicode) ont été ajoutés à la version 5.2.0 du standard, publiée en octobre 2009.
☝